Decorate Downtown 2017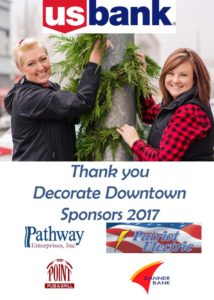 Decorate Downtown is an opportunity to celebrate small town business and show support to our community through celebration. Thank you to all of our sponsors and partners in this annual event. US Bank, Pathway Enterprise Inc. and Patriot Electric brought you the garland downtown, Costco and The Point Pub and Grill supplied the goodies while we were serenaded by the Crater Chamber Choir. Hope you can join us next year!
Decorate Downtown 2016
Central Point Chamber Decorate Downtown is an incredible way to show support for your local downtown merchants. You can purchase garland for your favorite business or just come down and be part of the festivities. We celebrate with pastries, coffee, hot coco, caroling, and hanging garland. It is about showing our locally ran businesses that we appreciate their commitment to our community. This event will be held the Friday prior to the Central Point Community Christmas Light Parade. Friday December 2nd pictures below. We hope to see you next year.